X1D Firmware
One of the many strengths of the X1D is its ever-evolving firmware. Since the release of the X1D, a large number of features and improvements have been introduced to ensure that you get the most out of your camera.
Make sure your X1D is up to date by downloading the latest firmware from My Hasselblad.
Firmware update 1.21.0
The 1.21 Firmware Update for the X1D platform adds to the photographer's ease in not only capturing one's shot, but their options for creativity as well.
Highlighted features include a White Balance Tool, allowing the photographer to set the colour temperature and tint directly on a photograph when shooting. In addition, the firmware now offers an Interval Timer and Exposure Bracketing. Using the Interval Timer, photographers can further their creativity with time-lapse shots. Exposure Bracketing gives users options in their exploration of varied exposure settings, capturing up to 9 frames with customisable sequences of bracketing exposures.
Features
White balance tool
Interval timer
Exposure bracketing
Audio notifications
Tethered image import
Reset all settings: Option to disable reset of profiles
Power Off symbol while shutting down
Improved feedback to user when missing card in backup mode
Browse Zoom: Long-hold to zoom in to 100% or out to full image (X1D: Hold the AF-D/AE-L button; H6D: Hold the True Focus button)
New setting: Shutter speed limit for Auto ISO, P- and Full Auto Mode
Custom Button for Crop Modes - Replace "Crop Mode Cycle" with "Crop Mode Next" and "Crop Mode Previous"
Zoom into coordinates of the focus point for the image just taken
Browse images and pan when zoomed-in in EVF with swipe on touch-pad area on display
Start live view automatically in EVF after browsing on rear LCD
Auto focus support for all HC/HCD Lenses (except HC120 Macro) when using the XH Lens Adapter
Firmware update 1.20.1
The 1.20.1 Firmware Update is a maintenance release for the X1D-50c camera that solves a problem in 1.20.0.
Improvements
Fixed a bug that caused right audio channel to be silent when certain microphones were connected.
The 1.20 Firmware Update brings exciting new updates and functionality to the X1D that allows photographers and artists help in capturing their creative vision.
These new features include Instant Preview and Imaging Browsing through the X1D EVF,
a beneficial utility that many photographers rely on. Firmware 1.20 also offers creative Selectable Crop Modes including the popular XPan Ratio (65:24), 1:1, 7:6, 5:4, 3:2, 16:9, 2:1, A4, US Letter and more.
Features
Instant preview and image browsing in EVF
Selectable Crop Modes: 1:1, 7:6, 5:4, 3:2, 3:2 cropped, 16:9, 65:24, 2:1, A4, US Letter. Crop modes are only image tags, full sensor area is still recorded.
Back-up to secondary card
Added EXIF tag: Lens Model
Sprit level overlay: More info added (Exposure time, Aperture value, ISO)
Touchpad: Pan in zoomed-in EVF live view
Touchpad: Move focus point with HDMI attached screen
Contrast auto focus with XH adapter*
*Works now, with the following lenses: HCD 28mm, HC 35mm, HC 50 mm, HC 80 mm, HC 100mm. Lenses need to be upgraded to lens firmware version 19.0.2.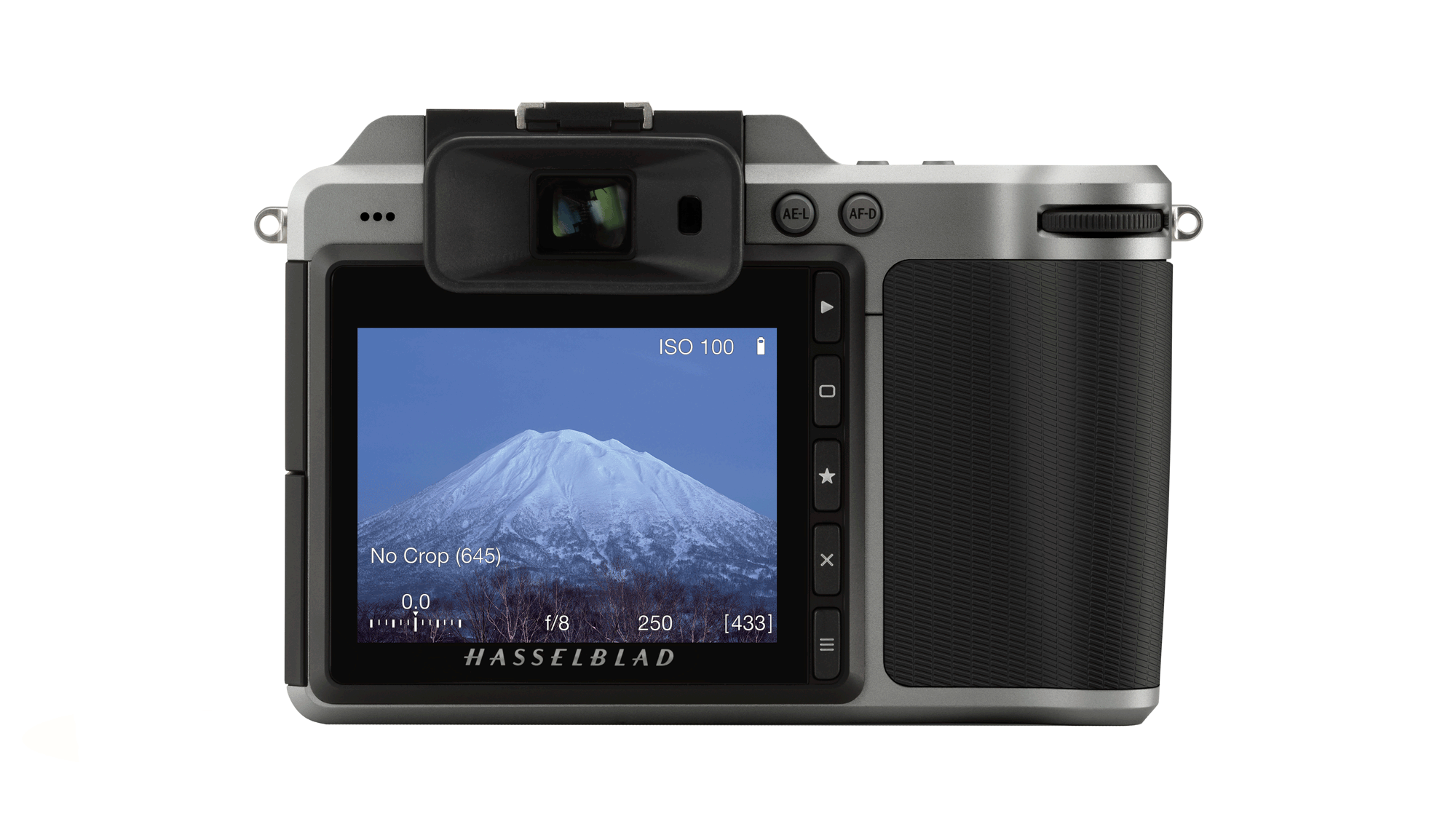 With the new 1.19 Firmware Update, the X1D is now even more user-friendly and customisable with a new function to use the rear screen as a touch-pad to select a AF point while viewing through the EVF.
Furthermore, the update for the X1D includes the following new features:
Touch-pad selection of AF point
New setting: Live view in EVF only
Custom buttons
New setting: Max aperture (Lens bokeh)
Create new folder
Toggle overlay in Video Live View with display button
Touch-pad selection of AF point - setting
Max aperture 
The new 1.17.3 Firmware Update for X1D adds full support for the new XCD 120 Macro Lens. For proper functionality, the X1D camera must be updated with 1.17.3 or later.
Further, we added increased stability when using the GPS Module on the X1D. With this new firmware, satellite-fix will be more consistent and even if satellite connection is temporarily lost, images will still have a GPS position.
The 1.17.2 Firmware Update for the Hasselblad X1D-50c adds two important features that extend the shooting envelope of the camera: resizable autofocus points and an electronic shutter function.
By popular demand, three sizes may now be selected offering 35, 63 or 117 points by holding down the AF/MF button and pressing the display [] button to cycle through them. The focus point may be reset to center easily by pressing the X button.